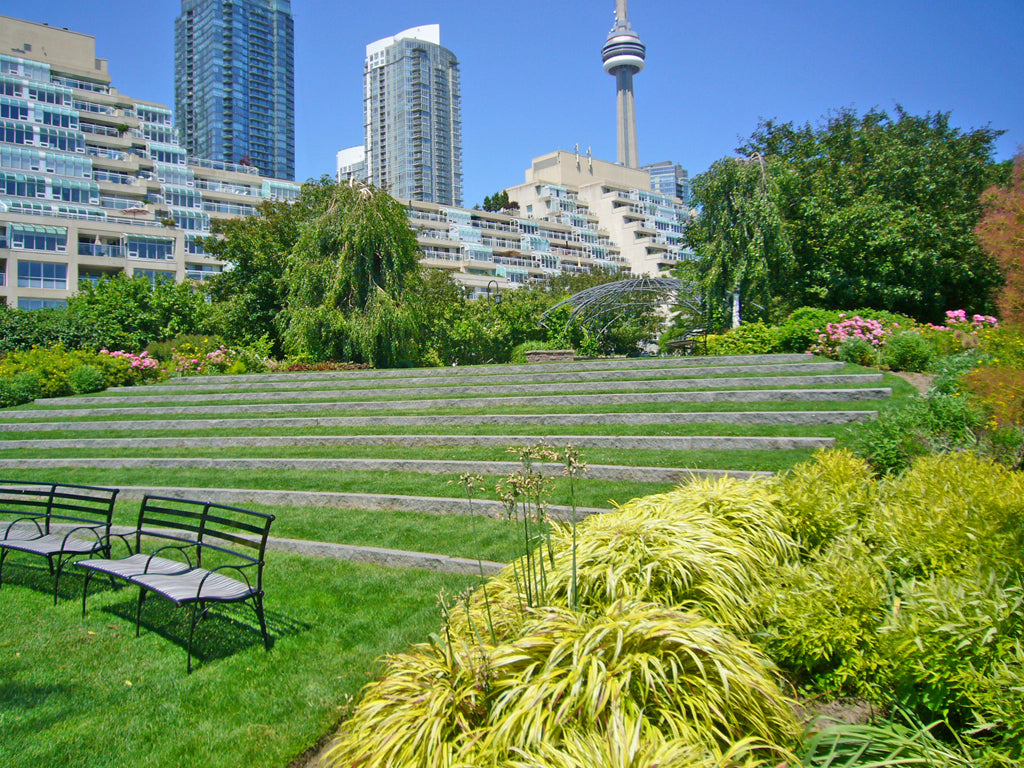 The Top 5 Toronto Spots for Wedding Photos
1. Toronto Music Garden
The Toronto Music Garden is one of THE spots to visit during the spring and summer in Toronto. It offers seemingly endless paths with flowers, foliage and greenery around every corner. It sprawls along the Toronto shoreline with a nice harbor packed with yachts and old sailboats to give you more photo options.
The gardens were designed by renowned cellist Yo Yo Ma, and landscape designer Julie Moir Messervy. Each section of the Toronto Music Garden corresponds with a section of Bach's Suite No. 1 in G major for unaccompanied cello. Woah.
2. Royal Conservatory of Music
A mix of old and new, the Royal Conservatory of Music is a music education institution as well as a performance venue. It offers some really nice open spaces for wedding parties, and intimate nooks for the bride and groom. We recommend Koerner Hall, which has 3 tiers of glass-fronted lobbies that fill the space with light and give you that contemporary look, with a dash of history as a backdrop.
3. Graffiti Alley
Located near Queen St West and Spadina Ave., Graffiti Alley is a great spot for those who want to achieve a unique look for their wedding pictures. For years, artists have used the walls that surround the alley as a canvas of expression, with colors and imagery you can't find anywhere else in the city. The art provides a perfect backdrop for any wedding party, and gives you lots of options for that perfect shot.
4. Distillery District
This is a Toronto classic. A must-see over the winter holidays is also a perfect venue during the spring and summer months for your engagement or wedding photos.
Cobblestone streets, exposed brick buildings, boutique shops and cafes, what's not to love?
5. Casa Loma
Go big or go home. This giant castle-like mansion was built over a century ago, by one of Toronto's wealthiest residents of the time, Henry Pellatt. The property has been meticulously maintained, and is currently used as a venue for all kinds of events, including a ritzy steakhouse, wedding ceremonies, and one heck of a spooky Halloween show.
This is the perfect location for those who want photos that take you back in time. There are seemingly endless photo options available in its 65,000 sq ft structure, with 98 rooms, and 5 acres of beautifully landscaped gardens.